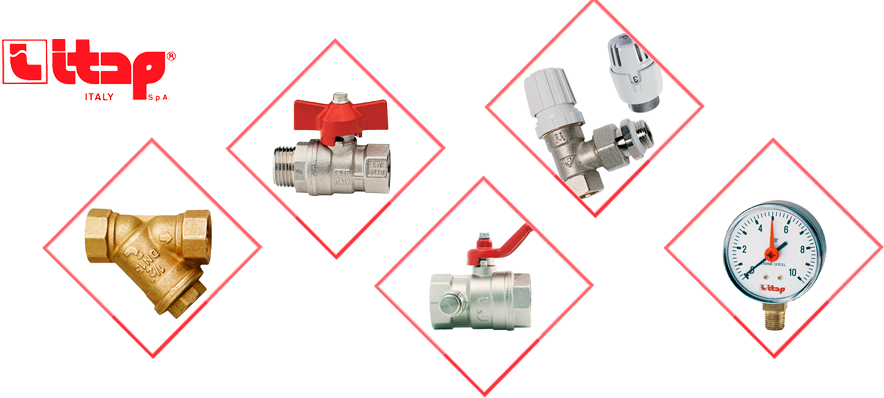 ITAP-leader in the field of sanitary fittings
The production facilities of the ITAP plant are located in Brescia, Northern Italy.
Products have been manufactured since 1973.
today ITAP is:
Engineering center, patents and new developments

More than 20 000 m2 of production area

Fully automated production in accordance with the

ISO 9001

72 lathes

51 Assembly line

Production capacity 180,000 products per day< / span>< / li>
Full product testing< / span>< / li>
More than 23,000 ball valves per year< / span>< / li>
Certification and delivery of products to 90 countries< / span>< / li>

materials and production technologies that Meet all environmental requirements.
ITAP has been present on the market of Russia and the CIS for more than 20 years, and its products are considered to be the standard of quality. It is actively used for water supply, heating, gas and compressed air transportation, air conditioning, ventilation, water Underfloor heating and Helio systems.
product Range: < / span>< / p>
check valves in brass and plastic saddle
Ball valves series is IDEAL (for the full passage) and a series of VIENNA (standard pass)
Sanitary valves
drains
Gas taps
Recessed and shut-off valves
Valves for washing machines
Automatic air vent and safety valves
the Collector junction and Assembly
Thermostatic and shut-off valves
Filter and pressure reducer
< span class="s1">new in the product range are stainless steel collectors: they are much cheaper and more practical than brass, the ideal solution for water Underfloor heating. Collectors are supplied to us in several configurations, with flow meters, control valves, drains and pressure gauges.
ITAP products are irreplaceable for those who value quality, reliability and functional design.