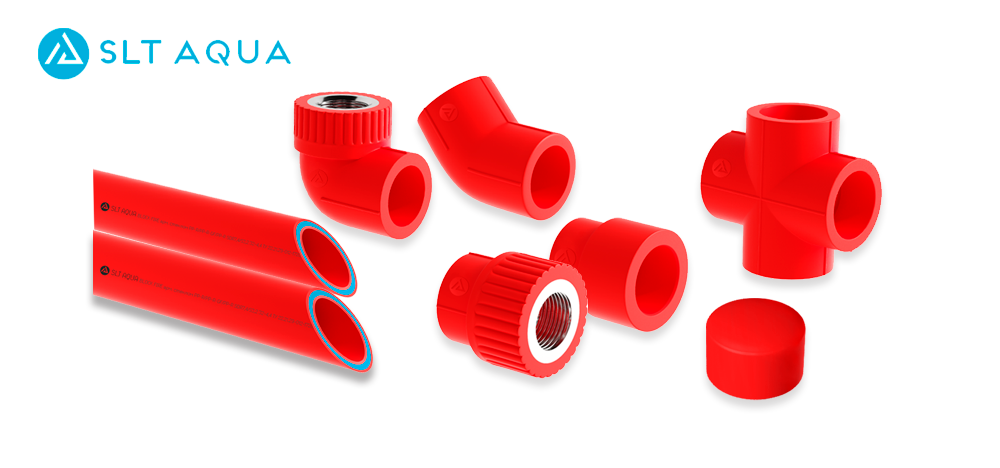 SLT AQUA «BLOCK FIRE»
    Dear customers of TD, OOO Stroyservis" is a novelty:system of fire-fighting pipes and fittings made of polypropylene of the BLOCK FIRE trademark» (production Russia, Togliatti).

     The products are intended for installation of water-filled pipelines of sprinkler fire extinguishing systems.

     Pipes and fittings made of red polypropylene have excellent hydraulic characteristics, are not subject to corrosion, are easy to install and can be docked with household and drinking water supply.

     Pipes are made of random copolymer (PP-R type 3) with the addition of halogen-free composites that slow down Gorenje and ignition.
The products are produced from primary raw materials.

     Advantages of "BLOCK FIRE" pipes and fittings regarding usage
steel pipeline:

- lower product weight. Reduction of logistics costs and the cost of installation.
Less load on load-bearing structures;

- easy to assemble; the BLOCK FIRE system is on average 15% more expensive than steel pipes, but reduces installation costs by up to 40%;

- welding of polypropylene pipes does not require access to work, fire-safe installation;

- the system does not rust and does not clog, remains in working condition for up to 50 years;

- seamless welding eliminates leaks;

- no need for additional maintenance (painting, washing, repair of welds) after 10.20 years of operation.

BLOCK FIRE pipes and fittings can be used in systems with water temperature from 5 to 50 °With and pressure from 22-33 Bar.

Products are delivered "to order". For information on prices and delivery dates, please contact our sales managers.